Logistics Solutions for Oversized Truck Loads – Industries
Forrest Logistics offers a variety of logistics solutions for oversized truck loads to suit many different industries.
Our fleet offers a range of trucks, trailers and equipment suited to a vast array of oversized load transport in Australia. We pride ourselves on our personalised attention to each project and we are dedicated to providing an exemplary service to all of our customers. Whilst we work across all industries, we have built up a formidable amount of skill within certain specialist industries.
The industries that benefit from our expert logistics solutions for oversized truck loads, include (but are not limited to):  Rail, Steel Fabricators, Pre-cast Concrete, Steel Pipe Manufacturing, Industrial Painting and Sandblasting, Oil & Gas & the Mining Sector, and Switch Room and Portable Buildings.
Forrest Logistics currently transports railway line for clients who supply these products to major rail contractors. Our logistics solutions for oversized truck loads includes a fleet of extendable trailers that allows Forrest Logistics to move lengths of railway line over 25 metres long. Forrest Logistics also has the capability to deliver railway line to remote and sensitive locations when necessary.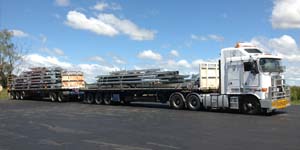 Forrest Logistics have supplied transport to this industry for over 15 years and continues to be a leader in this market. Our drivers are equipped with all the right skills to deliver these loads safely to site whether its oversize load transport or pilot truck services. Forrest Logistics continues to work with all their clients to improve safety, efficiency and cost of transporting their product.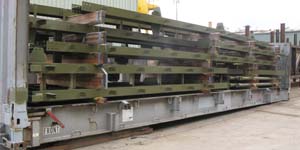 Forrest Logistics have access to most ports in Queensland and can supply container pin trailers load 20ft and 40ft shipping containers. Our drivers are also equipped with MSIC cards and have been inducted to most ports.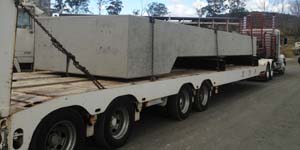 Forrest Logistics have a range of trailers to assist and transporting pre-cast concrete panels and girders. Our knowledge regarding how to load these products is a key aspect to maintaining the structural integrity of the concrete pre-cast product.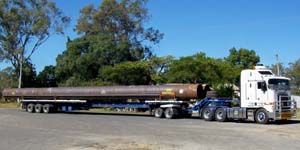 Forrest Logistics have transported hundreds of loads of steel pipe. Our fleet of extendable trailers means we can transport pipes over 25 meters long. We also have many pipe cradles and bolsters available to assist in the safe transport of these loads. We strive to be the machinery movers of Queensland road transport.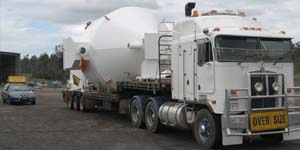 Industrial Painting and Sandblasting
Forrest Logistics know how to transport and protect your painted products. Our drivers will work with the loading time to ensure carpet or other protective packaging is used between the painted surfaces to minimise paint damage.
Oil and Gas / Mining Sector
Forrest Logistics continues to deliver products to the oil and gas projects and many other mining projects throughout Australia. Our drivers are inducted at many of the mines and have the experience to handle a full range of transport solutions.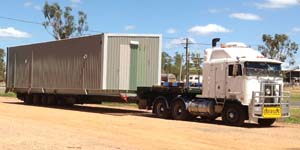 Switch Room and Portable Buildings
Forrest Logistics can supply transport to handle all types of portable buildings. Our extensive fleet of trailers means we can cater for oversize buildings and sensitive switch rooms.